Which Low-Slope Roof Coating Material Is Right for Your Commercial Building?
While single-ply membrane roofing—like PVC, TPO, and EPDM—and modified bitumen "rubber roofing" are some of the most popular roofing systems for new commercial roof installations today, they're not the only options available. Sometimes, commercial flat roof coatings are an option to stabilize your roof and recreate a waterproof seal.
Roof coatings can be made from a range of materials, including some that are designated as elastomeric. All can stop roof leaks, add energy savings, and revitalize your current roof without requiring a total tear-off and reinstallation project. And some coating types are even appropriate for new roofing installations.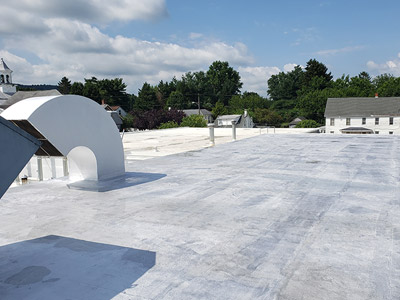 Acrylic Roof Coatings
Acrylic materials were some of the first used in roof coatings. This is why some commercial roofers still refer only to acrylic coatings as elastomeric roof coatings, barring all other product types. Acrylic coatings are incredibly durable. However, scientific advances have made alternative materials in the market somewhat more popular. It's highly durable and can maintain its aesthetic for many years. Acrylic coatings are also one of the more cost-effective types.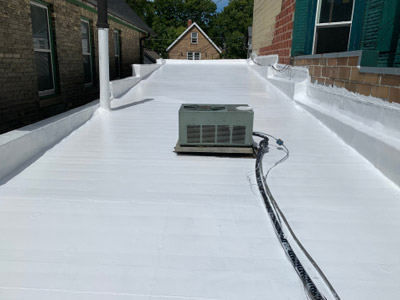 Silicone Roof Coatings
Silicone is a material that has long been used as a sealant in many industries to fill gaps between other materials. This polymer is made to stretch without breaking—called elongation—to the tune of about 200-250%. Silicone roof coatings are highly reflective and can offer building owners and managers significant energy savings by reflecting UV rays. For maximum convenience, silicone roof coatings can often be applied in a single coat.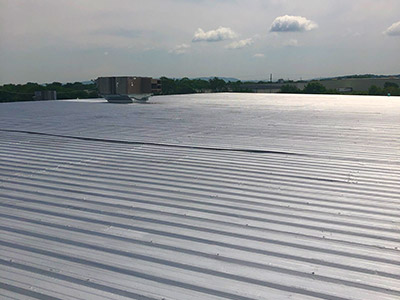 Butyl Roof Coatings
Butyl polymers are solvent-based synthetic rubber materials with excellent elongation and tensile strength properties. Butyl is non-acrylic, which throws its definition as an elastomer into question for some roofing industry professionals who only call acrylics elastomeric. The benefits of butyl coatings include excellent reflectivity against UV light and exceptional performance as a vapor barrier for your existing roof.